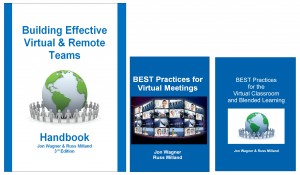 VirtualeTeams provides organizations with effective and efficient leading edge tools, resources and services to reach optimal levels of performance across boundaries of time, distance and culture.
Our products and services focus on the challenges of delivering Blending Learning experiences to an increasingly virtual workforce that works across time and space. We target the Mentors, Coaches, Consultants, Designers, Facilitators and Managers involved in transforming their development and delivery of these services.
We also deliver consulting services and targeted programs for virtual team leaders and virtual team members who work and learn across time and space. We focus on helping them reach peak levels of performance and increase effectiveness.
Click here to visit our Products and Services web pages.