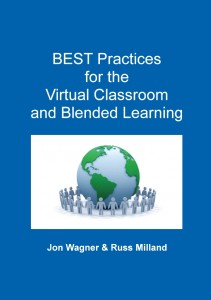 This 212 page e-book can be purchased for $29.95 in Canadian funds or $24.95 in U.S. funds by clicking below.  Your E-Book will be sent to you as a PDF by E-Mail within 24 hours of your purchase.
Read more about content, pricing & shipping …….
Note: This book is also available as a softcover paperback:
For  $24.95 in U.S. funds plus applicable taxes and shipping and handling charges from Amazon.com by clicking here.
Or for $33.24 in Canadian funds plus applicable taxes from Amazon.ca by clicking here.
…………….
PDF Format in Canadian Dollars ($29.95):
…………….
PDF Format in U.S. Dollars ($24.95):
The 185 best practices in this E-book are based on research of blended learning and virtual classroom best practices, over 20 years' experience researching virtual and remote team effectiveness, and practical experience leading hundreds of virtual meetings, webinars, workshops and virtual classroom experiences across the globe using numerous platforms.
For the purposes of this e-book, a Virtual Classroom is defined as an online instructor led classroom used for learning and development or training with defined learning objectives and participants who are connected live (at the same time) from dispersed locations.
We have structured this e-book into the key roles that go into making a virtual classroom experience effective. The Program Developer (or Designer/Architect), Administrator (or Coordinator), Host (or Producer/Moderator), the Presenter (or Facilitator/Instructor/Trainer), a Guest Speaker, Technical Support person and finally the Participant are critical roles. For smaller programs and organizations, one person may take multiple roles.
While most of these practices are platform independent, some of the features discussed are only available on certain virtual classroom solutions. Some of proposed activities in this E-book are taken from another of our publications, the Building Effective Virtual and Remote Teams Handbook (2011), where they are described in step-by-step detail.
The overall goal of these best practices is to help ensure the Virtual an effective learning experience for the participants, ensure the learning objectives are accomplished and Virtual Instructor-Led Training (VILT) is highly effective.